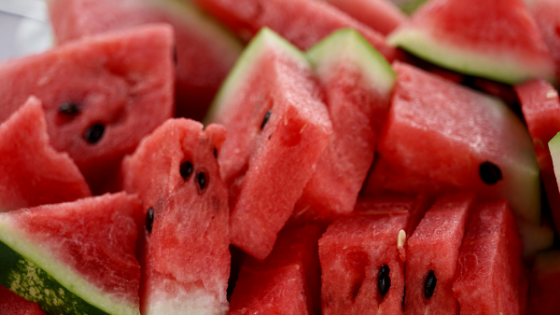 Summer is in full swing at our Centennial, CO apartments. We always like to find fun ways to feature the fruits and vegetables that are in season, and right now, watermelons are everywhere. Have you wondered what you can do with watermelons? We've got your answer!
1. Watermelon Jerky
Jerky isn't just for beef or turkey anymore. If you have a food dehydrator, a few hours (okay, maybe a day) in the device will turn delicious watermelon into a chewy-yet-crispy treat. With this recipe, you can use a standard oven if you don't have a food dehydrator lying around.
2. Cucumber Basil and Watermelon Salad
This salad screams summertime and doesn't require many ingredients at all. It's the perfect lunch item if you're trying to avoid fast food in favor of something that's healthy and fresh.
3. Watermelon Steak
Even vegetarians can enjoy the beauties of steak with this fruity filet. The oven does most of the work, but the melon steak will need to bake for several hours, so make sure you leave plenty of time for the texture of the watermelon to change prior to preparing the rest of your daytime or evening meal. This is an unusual way to eat watermelon, but be prepared to be wowed.
4. Watermelon Coconut Milkshake
Both watermelons and coconuts are high in water content, so use that as an excuse if you're looking for a reason to break your diet and delve into some delicious frosty bites of creamy goodness. This is a great way to use watermelon you may have put in the freezer when you had too much to eat when it was fresh.
5. Watermelon Mojito
If you're serving a crowd, this drink takes the cake (or the melon, as the case may be). By simply cutting a hole directly into the watermelon rind and mixing the fruit on the inside, you'll have your base for the cocktail. Add a little muddled mint, some rum and fresh lime juice, and you're all set! One watermelon will give you about six to eight drinks.
If you're searching for a stunning apartment in Centennial, look no further. The Apartments at Greenwood Plaza community is ready to welcome you with open arms. Check out our gallery and see the beauty for yourself!